STRANGER FISH_2021
DISCOVER THE MOST INTERESTING CREATURES IN L'AQUÀRIUM DE BARCELONA
Autumn brings a new season to L'Aquàrium de Barcelona. Some interesting creatures will steal the attention from the sharks and the penguins, and surprise us with their strange skills. Axolotls, boxfish, morays, chameleons, porcupine fish, and rays are a box full of surprises! 
Would From October 16 to November 14, the seabed will be an eery place.
Cobwebs, ghosts, witches, skeletons, and other creepy figures will fill L'Aquàrium de Barcelona at Halloween. Take a walk round the depths and watch out! Scary characters that will take your breath away are hiding among the aquariums.
Would you like to discover the mysteries they hide? We make it easy for you.
From 30 October to 1 November, if you are between 3 and 10 years old and wear a fancy dress, admission to L'Aquàrium de Barcelona is free of charge.*
Small (and not so small) visitors will be able to enjoy a face-painting workshop to camouflage themselves among the underwater creatures. And for extra fun see if you can solve our puzzle by following the clues.
All our activities here.  
Come to L'Aquàrium de Barcelona at Halloween, and discover the curious creatures that hide in the sea!
*Terms and Conditions of the promotion:
1 child in a fancy dress between 3 and 10 years old free of charge. accompanied by paying adult. Tickets available while supplies last.

This offer cannot be combined with other promotions. 

L'Aquàrium de Barcelona reserves the right to change or cancel this promotion if it considers it necessary.  
The magic of Christmas arrives to L'Aquàrium de Barcelona!
L'Aquàrium de Barcelona invites you to live the magic of Christmas surrounded by fish, sharks, and other interesting species. As every year, we have prepared a range of activities to be enjoyed with your family during this period that revolves around the illusion of children.
From December 21st to January 6th you will be able to explore the sea depths by solving our game of clues. Besides, at L'Aquàrium de Barcelona we have been feeding our underwater Tió (Christmas Log) for a few days. Come meet our Tió and take a surprise with you!
You may also enjoy our Christmas workshops: all together we will paint and build a wall of our Christmas sea, craft a decoration that you will be able to take home for your Christmas tree, and fill up the sea bottom with Christmas messages. The youngest ones may participate in our magical Christmas show.
We want your visit to L'Aquàrium unforgettable – don't miss it!
Discover the most interesting creatures in L'Aquàrium de Barcelona
Discover the most interesting creatures in L'Aquàrium de Barcelona
Autumn brings a new season to L'Aquàrium de Barcelona. Some interesting creatures will steal the attention from the sharks and the penguins, and surprise us with their strange skills. Axolotls, boxfish, morays, chameleons, porcupine fish, and rays are a box full of surprises! Would you like to discover the mysteries they hide? We make it easy for you. Every weekend from September 28 to December 15 we have prepared different exclusive activities so that you can come meet them with your family!
The "Ray feeding time" activity allows you to closely watch how rays feed while learning about their most interesting features explained by their caretakers. Did you know that they have a highly venomous sting on their tail that they use for protection? If you are still eager to learn, check out the guided visit "A sea full of strange fish" to discover in depth the most incredible facts about the animals that live in Mediterranean and tropical aquariums. And if you haven't had enough, try solving our Game of clues! The youngest, and also the not-so-young, will enjoy craft activities such as Face painting, that will help them camouflage themselves amongst sea creatures, and Design your own flextangle, that will test their inventiveness while they cut, paint, and paste. Participants in the latter activity will take a souvenir home – a personalized flextangle!
Looking for children-friendly plans in Barcelona? Visit L'Aquàrium!
Looking for children-friendly plans in Barcelona? Visit L'Aquàrium!
Are you ready to immerse yourself and explore the Barcelona sea floor with your family?
Do you like putting on your goggles and flippers to swim?
They say that in order to see, first you have to learn how to look. In L'Aquàrium de Barcelona you will have a good time and get ready to know the species that you will later find when swimming in the sea. Here you will learn about the different Mediterranean communities that you will find when visiting us and discover species such as rainbow wrasses, greenfish, starfish, sea urchins, dreamfish, two-banded seabreams…
How many animals are you able to identify when you go to the beach?
L'Aquàrium de Barcelona gives you the opportunity to see the different species to recognize them more easily when going to the Barcelona beach with your family – to see how the surmullets stir the sand with their barbels to search for food, how dreamfish and two-banded seabreams swim in sync, or how red scorpionfish perfectly camouflage themselves with the rocks. You can also download the"20 interesting facts you should know" before your visit to L'Aquàrium so that you don't forget to see the most surprising details. In the tropical aquariums we will hopefully find Nemo -the clownfish and its anemones-, the most venomous fish, sea horses… However, the most popular aquariums are the ones that serve as home to the fascinating sharks.
The most astonishing one is the bull shark, with its sharp teeth and large dimensions. Playing to identify the different species is also great fun – there are 10 different species! If you're lucky, you will even see shark eggs with baby sharks moving inside, as they are quite see-through.
Children will also enjoy seeing penguins in action – feeding, playing, and grooming. Penguins are located on the upper floor, in Planeta Aqua, together with other animals that have adapted to live in different aquatic environments, such as jellyfish, or piranhas in tropical rivers, amongst others. The youngest ones will have a great time playing inside the bathyscaphe, where they can explore the sea depths, and also discovering a beach or a Medas islands cave amongst sledges and corridors in the Explora!
Experiencing L'Aquàrium is like snorkeling, but without getting wet and while having a good time with your family in Barcelona!
Aquascaping
AQUASCAPING
Aquascaping, a recreation of idyllic, natural underwater landscapes. An exhibition inspired by Takashi Amano, naturalist, traveler, photographer and creator of the concept nature aquarium. Don't forget to visit it on the top floor.
TAKASHI AMANO
(天野 Amano)
1954-2015 Niigata, Japan.
A renowned naturalist, tireless traveller, prestigious photographer, landscaper and the creator of the Natural Aquarium, Mr Amano is considered to be a 21st Century Renaissance Man, who has turned aquariums into living works of art, using plants and landscapes as major features.
'CREATOR OF AQUASCAPES: TAKASHI AMANO'
His profound knowledge of nature, photography and the arts are the source of his boundless creativity and the excellence of his idyllic nature aquariums.
'LEARN FROM NATURE, CREATE NATURE'
Takashi Amano introduced the concept of 'learning from nature to create nature'. A methodical observation of nature, with its seasonal cycles, reveals natural aesthetics and harmony, which we can then recreate in a natural aquarium.
IWAGUMI
The word iwagumi ('rocky formation' in Japanese) is the recreation of an aquatic rocky landscape, as seen from a distance. In essence, the landscape is composed of an odd-number of   (three or more) rocks: the biggest and most important rock (oyashi) flanked by two smaller ones that are different from each other (fukuishi and soeishi, respectively).
RYUBOKU
The technique for integrating tree-like branches into natural aquarium compositions. Mosses and epiphytic plants are usually arranged on forks in the branches, helping to create that effect. The landscape may also include other features, such as rocks, but never as major landscape components.
NATURE AQUARIUM
A nature aquarium is an original style by Takashi Amano. It is the culmination of an extensive study of natural equilibriums, the intrinsic harmony of aquatic plants and the aesthetic and visual tenets of art and photography.
Nature aquariums are a recreation of idyllic, natural underwater landscapes, such as streams, rivers and lakes, with their accompanying plants, mosses, tree branches, rocks, gravel, etc.
'BALANCE OF NATURE'
A theory which states that healthy ecosystems are in equilibrium. A natural aquarium is nature in miniature; a micro-ecosystem where every organism, including plants, shrimps, fish and micro-organisms, fulfils a vital role in creating that harmony and balance.
At the aquascaping exhibition in L'Aquàrium you can enjoy the details of each aquarium and the balance between organisms. Small samples of nature in harmony that capture the essence of each ecosystem represented.
WATER BOTTLES IN THE SEA, THE BIG THREAT FACING THE OCEANS
THE IMPORTANCE OF SEAS AND OCEANS
Seas and oceans cover more than the two thirds of the planet's surface. It is for this reason that the earth is known as the Blue Planet. In its waters we can find many forms of life, from planktons and aquatic plants to big whales. On the other hand, oceans also have a fundamental role in the cycle of water, in the chemical composition of the atmosphere and in the regulation of the climate. Since many centuries, us humans, have been exploited the resources that the sea offers to us and we have been using it as a transportation mean for merchandizes and people…and even as a garbage dump. The waste thrown in the sea is dangerous for the fauna but also for our specie. The plastic rings that hold cans of drinks together manage to tangle and asphyxiate animals. Plastic bags are swallowed by turtles and some fishes because they mistake them for jellyfishes, they are therefore deathly. Plastic bottles in the sea ended up forming absolute garbage islands.
PLASTIC BOTTLES IN THE SEA ARE POLLUTING
Plastic is one of the most polluting material for the ocean. We are talking about a material that could take up to 1,000 years to biodegrade. For the first time a study lead by the prestigious magazine Science, quantifies the plastic that ends up in the oceans; more than 8 million tons of plastic bottles in the sea each year and it is estimated that in the year 2050 there will be more plastic than fishes in the sea.
Could we imagine what 8million tons of plastic bottles in the sea each year represents? This same study notices that more than 80% of the plastic waste that reaches the sea comes from a few countries with China in the first place, and also the United States among the first ones.
However, what is sure is that scientists still don't know exactly where the biggest majority of the plastic waste, that we say is reaching the ocean, is located. A big part would be sunken in the depths of the sea, the other part of the plastic would be floating in the sea, trapped in whirlpools and ocean gyres. At the same time, ocean currents that transport plastic, the wind, solar radiation and the action of the waves are such that the plastic bottles, along with other residues of the same material, are cracking off and breaking into decreasing fragments, producing what we call micro plastics. The amount of micro plastics in the ocean is extremely difficult to quantify. They are minute, very hard to eliminate and end up being part of the marine food webs when ingested by fishes. On top of directly acting in the mortality of aquatic animals, they can also affect humans that eat them.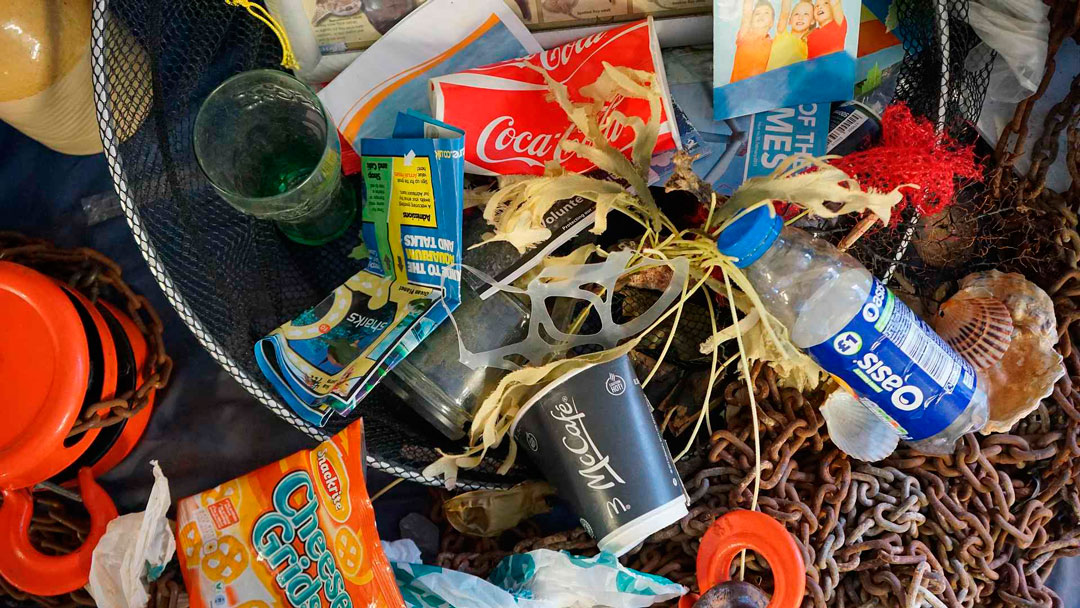 A sample of the big quantity of plastic that floats in the sea
THE SIXTH CONTINENT, THE TOXIC ISLAND
Among the five gigantic plates of plastic waste held by ocean vortexes, ocean currents have almost solidified the one of the east zone of the North Pacific. Known as "the sixth continent" by some, this island of plastic bottles in the sea covers a surface of around 1.400.000 km2, almost three times the surface of Spain. These 5 islands or plaques are however only the tip of the iceberg of an environmental problem, given that 70% of the waste ends up in the depths of the sea as micro particles and enters the aquatic food chain.
It has been estimated that 80% of the waste comes from terrestrial areas and 20% from boats. Because the "Toxic Island" is found floating in international waters, no one takes responsibility of the waste and there is no government held accountable.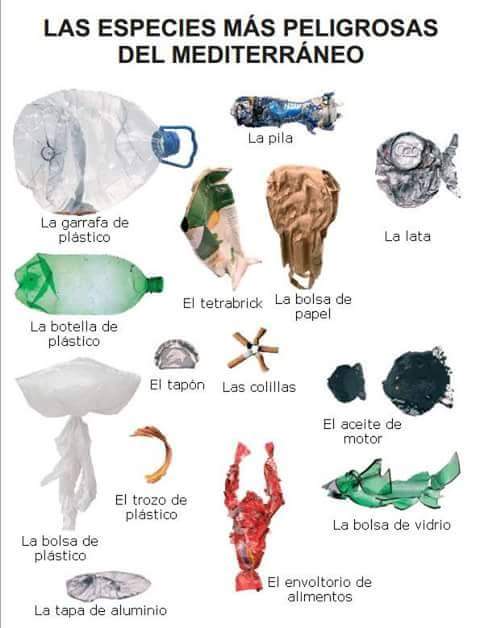 Picture published on the Catalan Water Agency of the government of Catalonia
FISHES, ADDICTED TO PLASTIC
It has been known for a long time that fishes swallow big amounts of micro plastic, but what wasn't known is that fishes eat them with pleasure.
In front of a small piece of plastic, the larvae of fishes chose that rather than planktons, their natural food. Larvae undergo the consequences of their choice, they grow up slower and move less fast and are therefore more vulnerable when facing predators.
A world without plastic, is it possible?
Slowly we are more and more conscious about the importance of reusing plastic bags and containers along with decreasing their consumption, however we could also ask ourselves whether we used toothpaste, exfoliating creams, cosmetics, deodorants, shampoo or shower gel that day…in that case, we would have consumed big quantities of micro plastics. Some of them will be assimilated and others will disappear through sewage until reaching the sea and then be eaten by fishes, which could again end up on our plates.
Fishes are not the only victims of these residues. Some studies note that 90% of birds also have plastic in their stomach.
Currently, micro plastics are used by common brands found in the market as well as by perfume stores or para-pharmacies. In some products they are labeled as micro pearls, even if on the list of ingredients they usually appear as "polyethylene" or "polypropylene". Some brands have claimed that they will stop using them in the future, others such as those of ecological cosmetics use a green label to indicate that it is a product free from plastic.
It is obviously hard to imagine a world without plastic in the middle of the 21st century. Plastic is invading our lives and has revolutionized the way we eat, drink and stock…and even if little by little recycling is more present within our habits, those residues has become a real piece of work. Some residues that multiply eternally and last a millennium become a big burden for the future generations. It might not be necessary to come up with new inventions but rather reuse materials already used by our great parents.
The solution to this problem is within our hands. There are a lot of campaigns created to raise awareness among people, but it is obvious that there is still a lot of work to do. Promote recycling, manage those residues in a rational way and promote the consumption of products that are respectful of the environment are some of the things that we could do to better this alarming situation.
PENGUINS
BIRDS OR FISH?
Penguins belong to a group of birds that cannot fly; their wings are adapted for swimming. For this reason, people used to think of them as fish. All penguins belong to the same family: Spheniscidae.
The penguin's original name comes from a bird native to the North Atlantic islands which became extinct in 1844, but was not related to the southern penguins.
WHAT ARE PENGUINS LIKE?
They have a light-coloured belly and a dark-coloured back for camouflage; they blend in with the sunlight above or the darkness of the ocean depths below.
They walk upright on dry land and are quite clumsy, waddling around with outstretched wings to keep their balance. They have 4 toes on each foot: The 3 front ones are webbed together by an interdigital membrane, while a small, separate toe points backwards.
They are covered in feathers; their body feathers are reduced in size and look like scales, their tail feathers are modified and are used as a rudder for navigation and for jumping out of the water.
THE PENGUIN'S OVERCOAT
They are warm-blooded animals, with a body temperature of 40 ˚C, and they have thick layers of fat that repel water and insulate them from the cold. A thick layer of feathers helps them conserve heat by trapping air, which is kept warm by their own body heat. The bubbles you can see when they dive come from this warm air.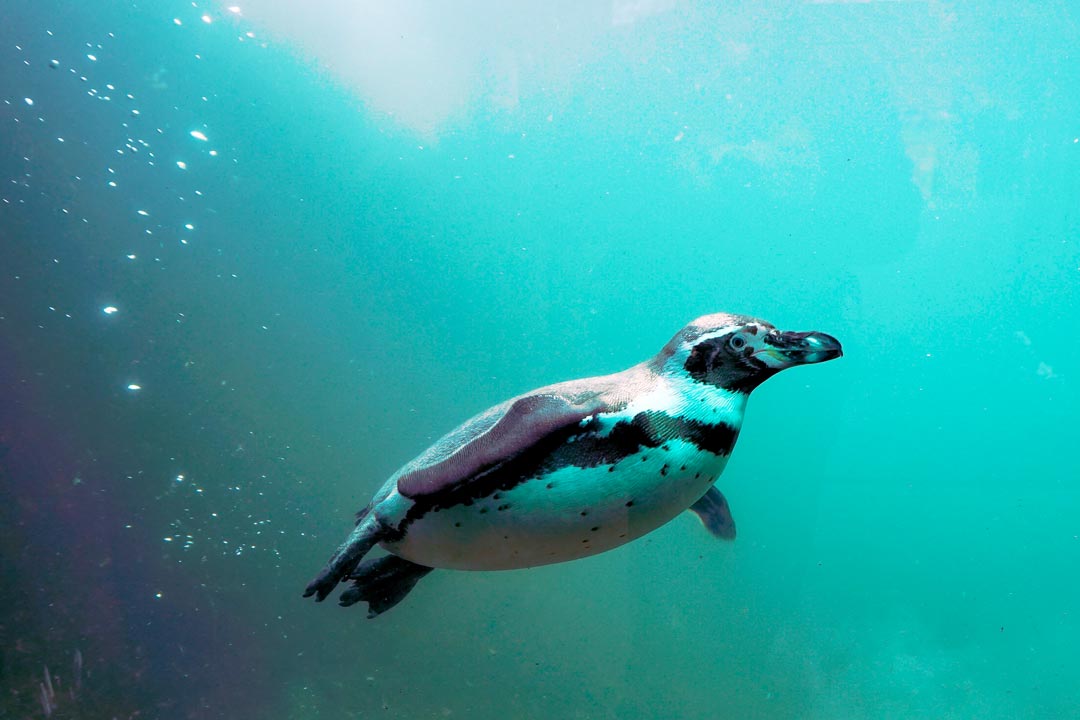 BEHAVIOUR AND REPRODUCTION
Penguins spend most of their time in groups known as colonies, coming back to them from the ocean every year in order to breed. When they meet their mate, they face each other with their beaks pointing skywards and their flippers pointing behind them. They make croaking sounds which are individual to each penguin and help them to find each other in the colony.
They are oviparous, like all other birds. Every year, penguins begin a journey to their place of birth, where they carefully lay their eggs. Usually, the female lays two eggs at the beginning of October, which take around 40 days to hatch. In general, only one of the chicks survives. The parents take turns to protect the chicks, while the other goes back to the sea to feed.
With most penguins, the male and the female build a nest far from the water, under bushes, in caves or in open spaces. In some cases, where they are unable to build a nest, they keep the egg on their feet for around 6 weeks. A fold of skin on their belly covers the egg or the chick, protecting it and keeping it warm.
The chicks have no feathers when they hatch out, so they stay in the nest until they develop a first layer of very fine feathers, or down, which protects them from the cold. When they go fishing, for example, some adults look after the chicks while the rest go fishing as a group.
FOOD AND PREDATORS
They feed on a variety of fish, squid and krill, as well as some small shrimp-like crustaceans that are found in plankton. Their bristly tongues help them to grip their prey, which they swallow whole, as they have no teeth.
Their predators include leopard seals, petrels, killer whales and sharks.
DISTRIBUTION
The 17 species of penguins in existence all live in the southern hemisphere, but contrary to popular belief, not all of them live in cold climates.  Most species live in temperate or tropical climates, but in areas where the water is cold.
THE BIGGEST AND THE SMALLEST
Emperor penguin (Aptenodytes forsteri)
They are the biggest of all penguins (1.2 m tall and weighing 30 kg on average) and can live for over 20 years.
They only live in the Antarctic, forming colonies of hundreds of thousands of individuals.
In the past, they were slaughtered for their fat and skin, although the inaccessibility of the Antarctic region has helped to conserve them.
They are great swimmers, able to dive to depths of up to 500 m, at speeds of between 6 and 9 km per hour. They can remain underwater for up to 20 minutes without breathing.
In the breeding season, they travel 90 km inland, a long journey that begins in April, when temperatures can reach 40˚C below zero.
They seek a mate by performing courtship displays: raising their flippers and bowing. In May or June, the female lays one egg, which the male keeps in his abdominal pouch (it mustn't touch the ground at any time, because that would be fatal for the embryo) while the female goes hunting for food in the sea. The males form compact groups to protect themselves from the cold and the wind, and after two months, the females return and feed the chick, regurgitating the food. It is then the male's turn to go and hunt for food. When he returns, both parents look after the chick together. When they become independent, the chicks imitate the behaviour of their parents, forming small groups with other chicks. They are a monogamous species and reach sexual maturity at the age of 5.
Little penguin (Eudyptula minor)
They have blue plumage on their back. As their name suggests, they are the smallest of all penguins (45 cm long and weighing a maximum of 1.1 Kg).
They are native to the seas of Southern Australia and New Zealand.
THE STAR OF L'AQUÀRIUM
Humboldt penguin (Sphenicus humboldti)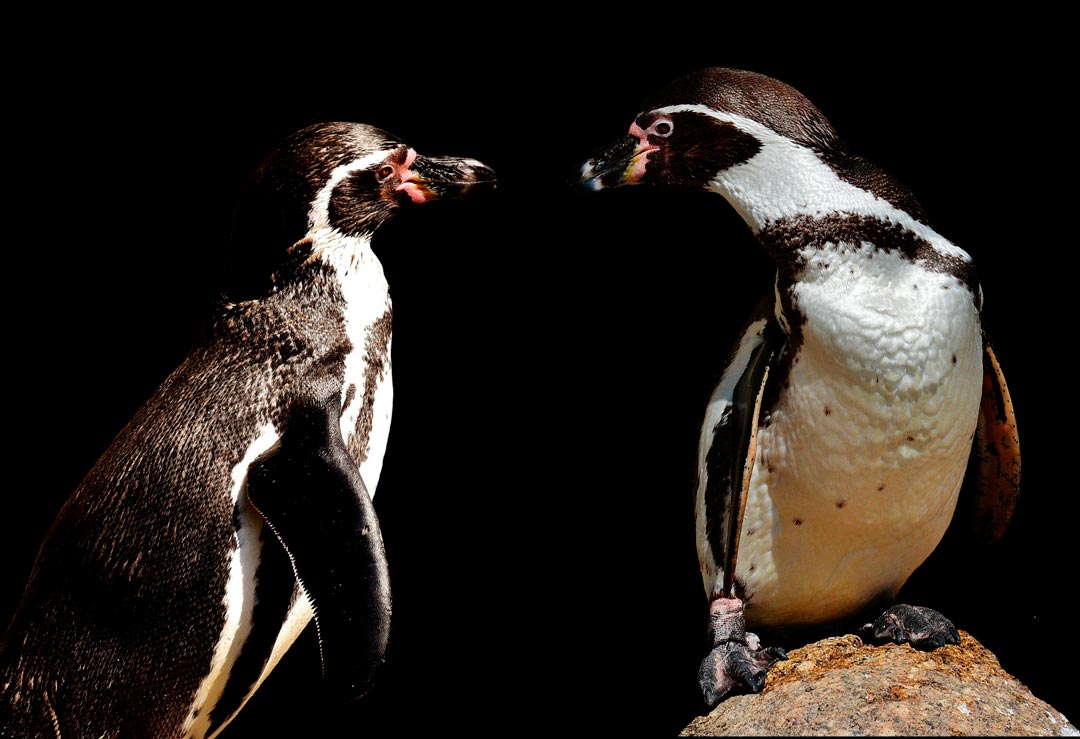 Characteristics of the penguin tank
-Water temperature:                                                        17 ˚C
-Air temperature:                                                              17 ˚C
-Volume of water:                                                             110,000 l
-Water recirculation and filtering:                                4 times an hour
-Air renovation:                                                                10 times a day
-Number of penguins:                                                     21: 11 males and 10 females (2018)
-Lighting:                                                                           Gradual variation to simulate the daily light cycle
-Species:                                                                          Humboldt penguin (Sphenicus humboldti)
This is a gregarious species, natural to the Humboldt marine currents, with a distribution ranging from the central Peruvian coast to the central Chilean coast. The species is endangered, with a total population of only 12,000 individuals, because the fluctuations caused by "El Niño" and "La Niña" affect the water temperature of those currents.
On average, Humboldt penguins weigh between 3 and 5 Kg. They live in breeding colonies on the coasts of cold and temperate regions in the southern hemisphere. At night, they usually sleep inside burrows, although some penguins choose to stay outside and may sleep upright or on their sides.
L'Aquàrium de Barcelona has a colony of 21 individuals and to date, 12 chicks have hatched. The breeding season starts in March and they can breed twice a year. They lay clutches of two eggs that are incubated for 40 days. The chicks don't leave the nest until they are 2 months old.
Some pairs stay together for 2 or more years, although others prefer to change partner every year.
Young penguins have a silver-coloured belly. Once a year, the penguins moult their feathers, and during this period of change, which takes about a week, they look a little scruffier than usual. Penguins often rub their beaks over their bodies, because they have a gland at the base of their tails that secretes an oil which makes their feathers impermeable; this behaviour is known as grooming.
The keepers feed the penguins individually, twice a day, although the food is sometimes thrown into the water, so that they have to dive to get it. They feed on herring, sprats and similar fish.
Nandu Jubany congratulations
Luís Enrique congratulates us
Luís Enrique, the first to congratulate us on our 20th anniversary!